Mini Craigslist "Missed Connections" Soap Opera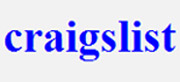 Sometimes it's fun to read the Craigslist "Missed Connections" and follow the fascinating storylines of all our rascally neighboring humanoids, and this last week was no exception.
We first found this ad on May 28th on seattle-tacoma craigslist > south king > missed connections:
How was your trip to Maui??? – w4m – 25 (SeaTac)
We met at at an airport parking place in Seatac on May 19th.
I was going to Disneyland and you were going to Maui.
You helped my daughter and I out with our luggage.
If you remember me, please let me know! 
Then, a few days later, came this rather interesting rebuttal:
Hi,

You posted this for my husband.
His trip to Maui went fine, I was a day late due to a conference.
Why do you want to know how his trip went?
You must be the lady he mentioned when we were in Hilo.
He said you have a nice looking daughter and thought that you may have adopted her.
He said you stared at him plenty.

Mrs. Jake B.