Same Dude Robs Burien KeyBank 2nd Time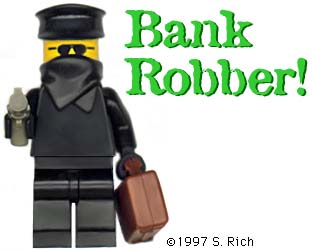 We reported about the first incident two weeks ago, when we posted a photo of the suspect in a June 7th robbery of the KeyBank on SW 152nd in Burien.
Now comes word that the very same robber held up the very same bank last Saturday.
Same guy.
Same bank.
Within two weeks!
Deputies say he robbed the KeyBank at 655 SW 152nd on June 7 around 11:30am. He passed a note to the teller demanding money but didn't show a weapon. He then left in a full-size, medium-blue older Ford pickup truck that had no canopy.
Then, two weeks later, he used identical tactics to rob the identical bank at 10:10am.
However, this time, the man apparently escaped on foot, as no vehicle was seen with him.

 (Note to cops: perhaps he's robbing banks because he drives an old Ford truck that gets 7 MPG?)
Deputies have released a photo of the bad guy, and if you see him in a full-size, medium-blue older Ford pickup, or perhaps on foot, you are asked to please call their office 24/7 at (206) 571-8838: