B-Town Undercover: Swim Meet Purgatory In Hell?
Each summer, I endure parental purgatory and attend my children's Swim Meets at the Gregory Seahurst Swimming Pool right here in Burien.
Swim Meets tend to be long (3-4 hours) and SLOW.
Let me just say they are on par with another sport everyone loves to watch, called "Watching Paint Dry" (which is far superior to that other huge summer shit "Watching Grass Grow").
This is Joseph's final year of swimming, and I am a Timer at his Swim Meets – a proud part of the "old guard," or parents with older children who usually end up with this envious task. The younger set of parents are willing to Time but cannot Time, as they have no Time to spare 'cuz their small children are too busy sucking Time up by running from tent to tent, squealing and stealing candy and falling into the pool. Time and Time again (ba-dum-bum).
I know this as fact, as I used to find my youngest hiding out in someone else's tent with wet diapers and a sticky face, surrounded by candy wrappers.
During the most recent Swim Meet, as I chatted with my fellow Slaves of the Stopwatch, the "Heli-Parents" were hard to miss. You know who I'm talking about – the Dad who runs along the soccer line, shouting instructions at his kid, or the Little League baseball parent who argues with the referee about a "bad" call.
Naturally, these competitive parents have all been put on restriction in their cars during upcoming games. With windows up.
At the Swim Meet tonight, several parents are unbelievably ill-behaved, worse in fact than their Time-sucking chitlins hiding in other people's tents with wet diapers and sticky faces. One parent in particular comes to mind – she looks like your average Mom, and is sporting the uniform that all swim team Moms wear: baggy, wrinkled shorts, pizza-stained top, and sandals or thongs (these thongs are for her feet; perhaps the younger set wear the other type of thong – I don't know). A swim team Mom or Dad is almost-always armed with a towel and camera around her/his neck.
I noticed this particular Mom because she has an unusually furrowed brow. I observe her just as her child's race starts.  I nearly miss setting my own Stopwatch for our lane, but luckily my ever-watchful husband shouted at me "to get in the game."  The Heli-Parent from Hell runs alongside the pool, knocking all in her path out of the way; thank God she didn't knock anyone into the pool.  She has a very strident voice and hollers in a "Tarzan-like" call during her sprint along the length of the pool.  Just as quickly, as she runs back down to the other side of the pool where the race ends, she nearly knocks me down with her sweat-drenched body. I give her a very bad look, after all I am an official Timer, I've got a Stopwatch and I'm not afraid to use it, thus I am allowed to do such things. I secretly think about adding a few seconds to her kid's freestyle Time but that would be unkind.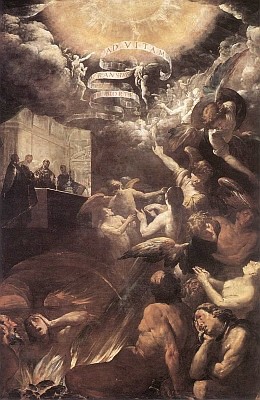 But at least now I know why her brow seems so dang furrowed.
Mrs. Heli from Hell anxiously waits at the finish line for her child to touch the wall, and  erupts with screams of anguish when her child comes in second. Apparently, second place is not acceptable. My ears hurt and her camera is slapping me on the back. Her nostrils flair and she unconsciously jogs in place while flailing her arms about her head. At some point during her hectic display, she throws her little boy his towel. It is a very disturbing sight to say the least.
The next event begins but old flared-nostrils furrowed-brow Heli Mom from Hell is still lamenting about her son's second place finish from the last event. Fortunately, the little fellow is happily standing in line at the candy shack. Nostril Heli Mom from Hell makes exaggerated swimming motions with her arms as if to say "This is the correct method for the freestyle you sugar addict!"
It is not a good look for her.
Her audience starts to discreetly back away, and of course she doesn't notice, 'cuz she's now too busy demonstrating the breaststroke. During this exhibition, she nearly knocks her own teeth out with her camera, which is still around her neck. Her nostrils flare even more (if that is possible) and spittle is spewing from her mouth. It's now hard to discern whether the moisture on the floor is from the swimming pool or from her frothing mouth. She now has no adult audience, but small children find her a fascinating sideshow, which should give the unfortunate woman some sort of clue.
Meanwhile back at the blocks, Mr. Hubby and I still Time, although I am still very distracted by Flared Nostril Heli Mom from Hell. A rather dorky child, who insists on standing directly in front of Mr. Hubby, is pestering us. We cannot see the current swimmer and communicate this to the boy dork. The Dork Boy responds; "do you know that I can fix anything?" He remains blocking our view. Mr. Hubby replies that he will "fix" Dork Boys race time if he will just move away from the blocks so that we can see. Fortunately, for Mr. Hubby, he has one deaf ear, so he cannot quite hear all of Dork Boy's inane comments.
In addition to Dork Boy, there is a cluster of small swimmers (speedy sixers) who jump in circles and hold themselves; we expect an "accident" at any moment.
Then there is the "stroke and turn" official.
He/she is in charge of watching for mistakes in a child's swim stroke, generally, the official swoops down like a vulture on some poor unwary child. The small swimmer sports a big grin after finishing second to last. The vulture kindly grips the unsuspecting kid and demonstrates the correct stroke for the child's benefit. The judge does not disqualify the swimmer, but the little swimmer is definitely terrified – you see, this is just a friendly reminder.
I really do not think it is necessary to speak to the sixers about their strokes, as they simply want to get out the pool and pee.
Perhaps just a small trickle on the shoe of the swim meet official, who might think:
"Hey, is that water from the pool, sweat from the Heli Mom from Hell, or…???"
Twenty-five years of living in Burien gives Humorist Shawn Underwood much fodder for her writings.
All of her stories are true, or at least have a grain of truth with no added embellishments.
Or something like that.
Read more of her humor at her website here.