HomeTask Care Foundation Helping Glendale Lutheran Sat.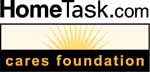 HomeTask Cares Foundation will be helping B-Town's Glendale Lutheran School Sat. Aug. 23rd by cleaning and painting their bathroom facilities.
According to a press release from HomeTask:
Back in June, HomeTask Cares participated in the Burien Strawberry & Arts Festival where they became aware of Glendale Lutheran School's need of some bathroom updates. HomeTask Cares decided they were going to help.

Throughout the following weeks, HomeTask Cares non-profit foundation reached out to local Burien businesses for support and began to plan out how they were going to bring the school's bathrooms into the 21st century.

Now the time has come! This is truly the weekend we have been waiting for! HomeTask Cares Foundation and their affiliates, HomeTask.com and Yellow VAN Handyman, will begin the repairs at 8:00AM this Saturday, August 23, 2008. We invite you to join us in recognizing Glendale Lutheran School and our local businesses that made all of this possible.

A special thanks to: Melissa Mannings and CED (Consolidated Electrical Distributors) in Kent. Eric Anderson and Miller Paint located on 152nd St. in Burien.  Jeremy Chambers and Sentinel Paint located on 152nd St. in Burien, and McLendon Hardware.

More info here.