Bang Your Head For FREE At Bison Creek This Saturday Night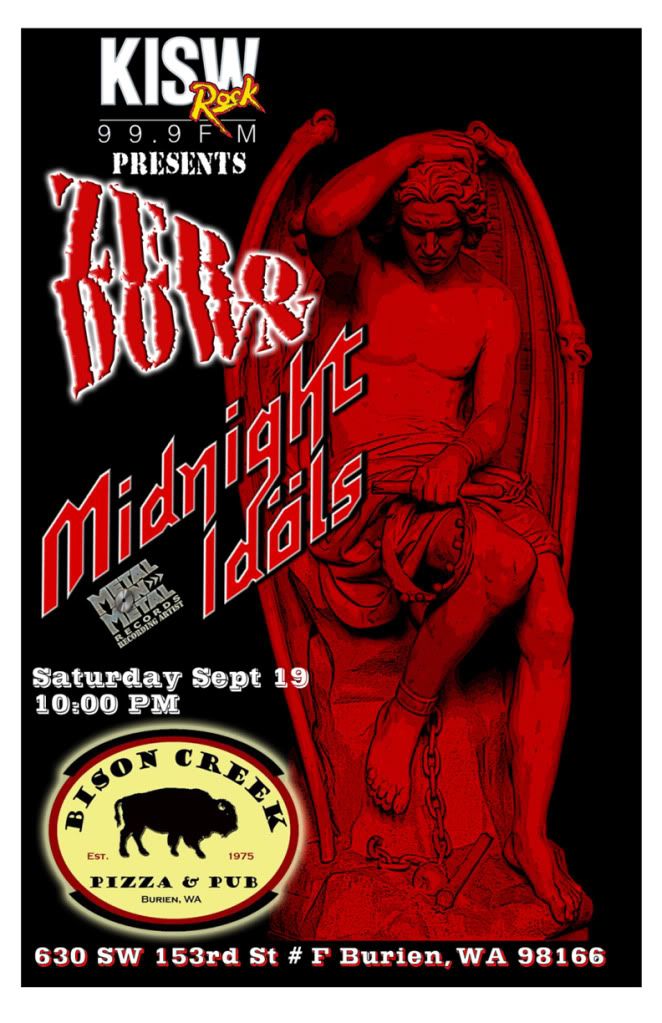 BTB Advertiser Bison Creek Pizza & Pub is having another FREE show this Saturday night (Sept. 19th) in conjunction with 99.9 KISW, featuring heavy metal from "Zero Down" and the "Midnight Idols"!
Show starts at 10pm.
21+ only.
NO COVER!
Bison Creek Pizza & Pub
630 SW 153rd St.
Burien, WA 98166
206.244.8825
According to their MySpace page, Zero Down is:
..Formed in 2002, ZERO DOWN consists of five veteran musicians from the Seattle metal/punk rock scene that cast iron 70's Arena Rock and NWOBM guitar riffs with hardcore punk intensity. ZERO DOWN has shared the stage with a variety of national acts including UFO, Motley Crue, Godsmack, The Accused, The Supersuckers, Faster Pussycat, L.A. Guns, Michael Schenker Group, George Lynch, Thor, Prong, Zeke and many more. Their new CD, "Good Times at the Gates of Hell" was recorded at Jupiter Studios with Martin Feveyear (QOTSA, Screaming Trees, Duff McKeagan's Loaded, etc) and includes artwork by the master of metal art, Ed Repka (Megadeth, 3 Inches of Blood, Death, Misfits, etc)!

Check out what the rest of the world has to say:

Hands, er, down, Seattle's Zero Down are America's best unsigned band, and to be that, you gotta have more than one beer-bongin record of clanging rock God-ness, and well, Zero Down have two, 2005's Old Time Revival and now this Ed Repka-painted ripper! – Martin Popoff (BWBK Magazine & Hard Radio.com)
…and Midnight Idols are:
"A true Head banging, fist pumping fury from start to finish."
– metalwarrants.com

"…from the opening title track Midnight Idols scorch this gig, laying down a proud pounding metal assault that is sure to please fans of the old school of rock."
– maximummetal.com

"I've not heard a riff cooler than the opening to "Satan's Son" since 1985, believe it. If the NWOBHM and the Sunset Strip mated and created a bastard child of excessive proportions, it'd sound something like the Midnight Idols."
– antidoterecords.com