B-Towners, Others Walked & Talked During Sunday's 1st-Ever 'Walk 'N Talk'
[EDITOR'S NOTE: B-Town Blog Friend and local Artist Maureen Hoffmann organized Burien's first-ever 'Walk N'Talk,' which was held Sunday, Aug. 7th; here's her report from her blog Kunstdame.com:]
Story & Photos by Maureen Hoffmann
People came in ones, twos and threes and gathered on the grassy knoll in the center of Burien's Town Square. Mothers and daughters. Couples. Clusters of friends. A man and his dog.
And people traveled from other towns just to join the walk. Amanda and Anne both came from Kent. Sharon came from Renton. Cathy came from West Seattle. Tina and Glenn came from Auburn. Tami and her daughter had just moved here from Indiana… The rest were Burienites.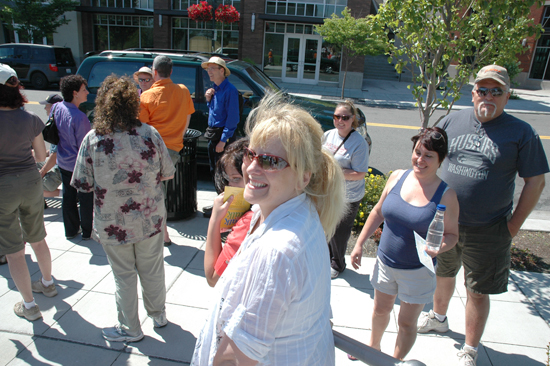 We couldn't have asked for a more beautiful, blue sky day in the high 70s. At 2:15, there were about 30 of us, and we were enthusiastic and ready to walk and talk.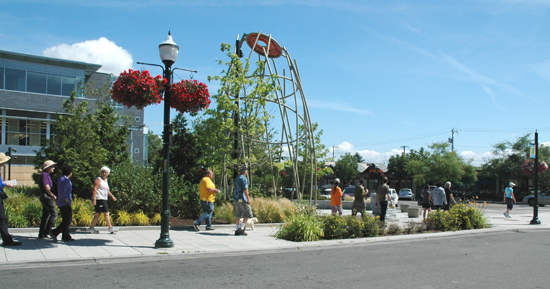 For the most part, people paired up and walked with someone they didn't know, and they chatted along the route. That was part of the whole idea: meet and talk to people you've never talked to before… get to know some neighbors.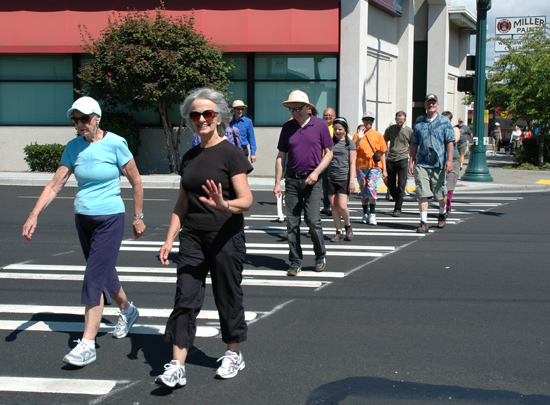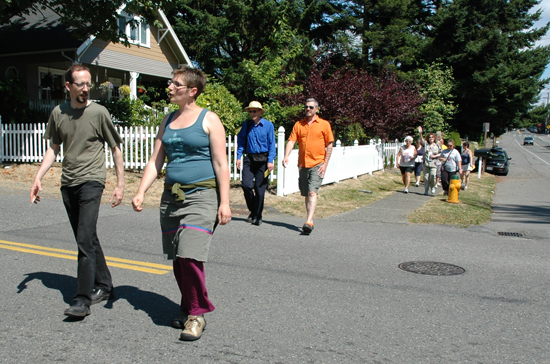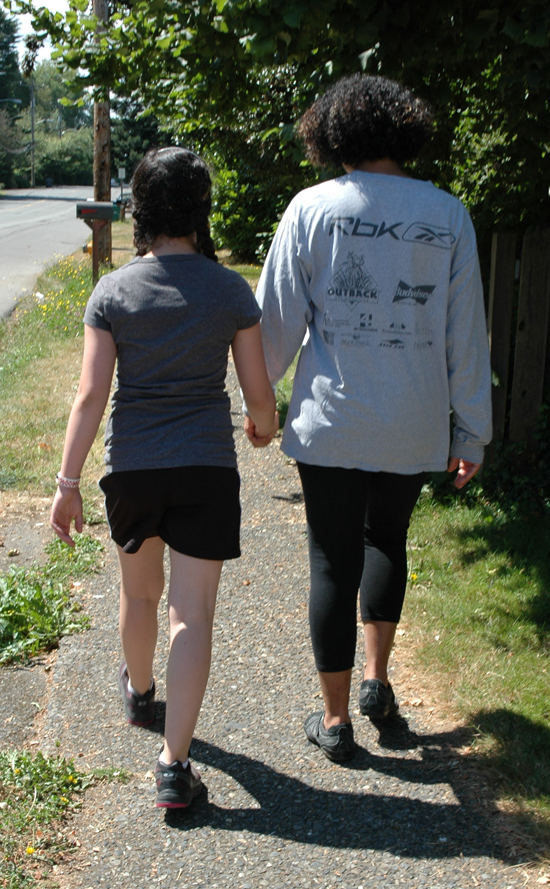 We passed other walkers along the route and picked up three more people that joined our group! Many onlookers were curious about the big group walking past them so we told them what we were doing.
We stayed strung out in clusters of conversation as we headed down the hill toward Lake Burien.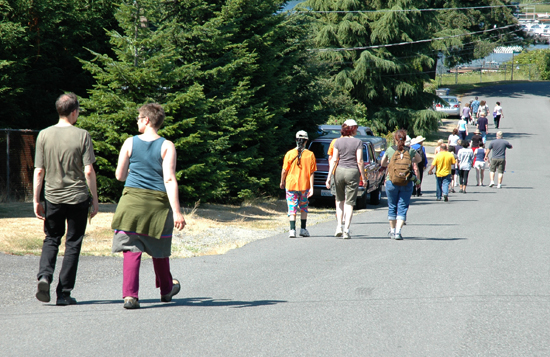 When we arrived at the lone lookout to Lake Burien, some of us stopped to point out sights along the shoreline, and to nibble a few of the ripe blackberries.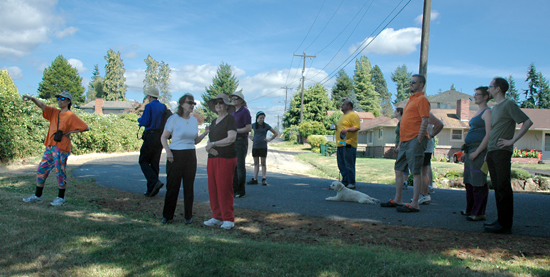 As the group strolled back through the center of town, walkers variously peered into shop windows, stopped for sandwiches, or bought a few skeins at the yarn shop, continuing their talks along the way. Arriving back at Town Square an hour after we had begun, much of the group wrapped it up with a drink and a snack at Burien Press, the ideally-located coffee shop across the street.
The next Walk-n-Talk is scheduled for Sunday, September 4th at 2:00. That's Labor Day weekend, so if you're not out of town and are looking for somthing to do, come walk! There've been suggestions of other routes, so we'll see what we can cook up between now and then.
Be sure to check out Maureen's excellent blog here: www.kunstdame.com