Truck Dumps Frozen Fish Into Duwamish Wednesday, Causing Major Flap
The Washington State Department of Transportation is reporting that a semi-tractor trailer truck went over the roadway and dumped its load of frozen fish into the Duwamish River, near the intersection of SR-99 and SR-509 in Tukwila Wednesday evening, Dec. 7.
The state Department of Ecology, Washington State Patrol and Tukwila Fire Department responded to the incident.
The trucking company has hired a private cleanup contractor to remove the truck from the river.
Here's the DOT's traffic webcam of the scene (refresh the page to see the most recent image):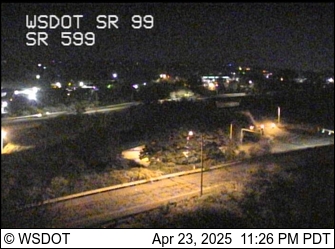 FACEBOOK HEADLINE CONTEST UPDATE:
We don't mean to make light of this accident, and we hope that no humans were hurt in it (the fish, since they were already dead and frozen, don't really matter…), but this is one of those stories that just called out for a funny headline.
So we held a contest on our Facebook Page.
Below are our top three choices for best headline rewrites (go ahead and add yours in Comments below) – thanks everyone!:
Fish Hijack Truck and Return to River!
– Cyndi Upthegrove
River awash with frozen fish after trailer gets schooled and takes a plunge.
– Lisa Bosques
The weather has been so cold lately that frozen fish from an overturned trailer felt right at home in the Duwamish!
– Ian Hamilton