What will likely be the final daytime* Bike SaFari is set to pedal off to North SeaTac Park this Sunday, Aug. 19 at 2 p.m.

Bikers are encouraged to meet at Town Square Park at 2 p.m. for this free and open event.
"We plan to re-ride last month's route to North Seatac Park because we were so excited about finding such a nice East-West connection through town to one of the best parks in our community," reads a statement on the WABI Burien website.
Bike SaFaRis – "Safe Family Rides" are monthly bike rides for young riders and parents, as well as those without children, that simply want to increase their cycling skills.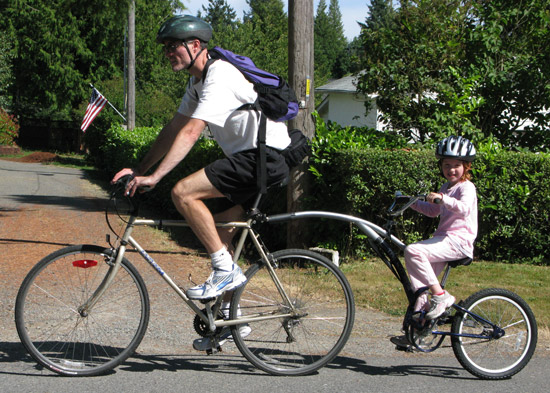 There have been little ones riding in bike seats behind their parents. Other kids ride on "trailer bikes" connected to a parent's bike, or they ride competently on their own knee-high cycles. The bicycle tours wind through the neighborhoods and around Lake Burien, including swingset and playground breaks. The rides lasts about an hour or so and are generally flat, except for occasional small hills.
You see new things on a bike! Along the route, we notice things that we just don't see through our car windshields, and we travel on streets we usually never travel. Conversations are spontaneous and varied as the group mixes along the way. New connections are made. Come for a ride!
WHAT:  Burien Bike SaFaRi:  Ride To North Seatac Park
WHEN: Sunday, August 19th, 2012 – 2pm
WHERE: Starting from Town Square Park (Under the sculpture on 152nd)
Route Details:
The third Burien Bike SaFaRi of 2012 will  graduate to a moderate, flat-ish, cycle friendly 6 mile round trip to the wonderful North Seatac Park for a playground/frisbee stop. Come and ride to one of our neighborhood gems only a short ride away. This is an amazing park with BMX track, Baseball diamonds, soccer fields, an orienteering course, disc golf course and a playground as well as lots of wooded trails.
Click on the route image below to see a larger version. And check out the following link to read about past Bike SaFaRis [1].
[2]
This is a FREE event, and all are welcome (either with kids or without).
ALL participants must wear bicycle helmets (parents included), and riders are taught to follow safe cycling practices and the rules-of-the-road.
The goals of WABI Burien's Bike SaFaRis – "Safe Family Rides":
Ignite an early enthusiasm for being on two wheels
Teach "bike sense" and street smarts to little ones
Gather people for fun, conversation, fresh air and healthful exercise
Freshen up cycling skills and comfort when riding on the street
Facebook
[3]
Twitter
[4]
Subscribe
[5]