PUGET SOUND WEATHER GEEK: Super Bowl Weekend and Beyond
Press "Play" button to view/hear the live, local weather stream.
by Chris Scragg
Puget Sound Weather Geek
Happy Friday evening everyone! Thick fog is blanketing the region right now, and the KOMO Air 4 Helicopter captured some AMAZING images from above Seattle as the sun set: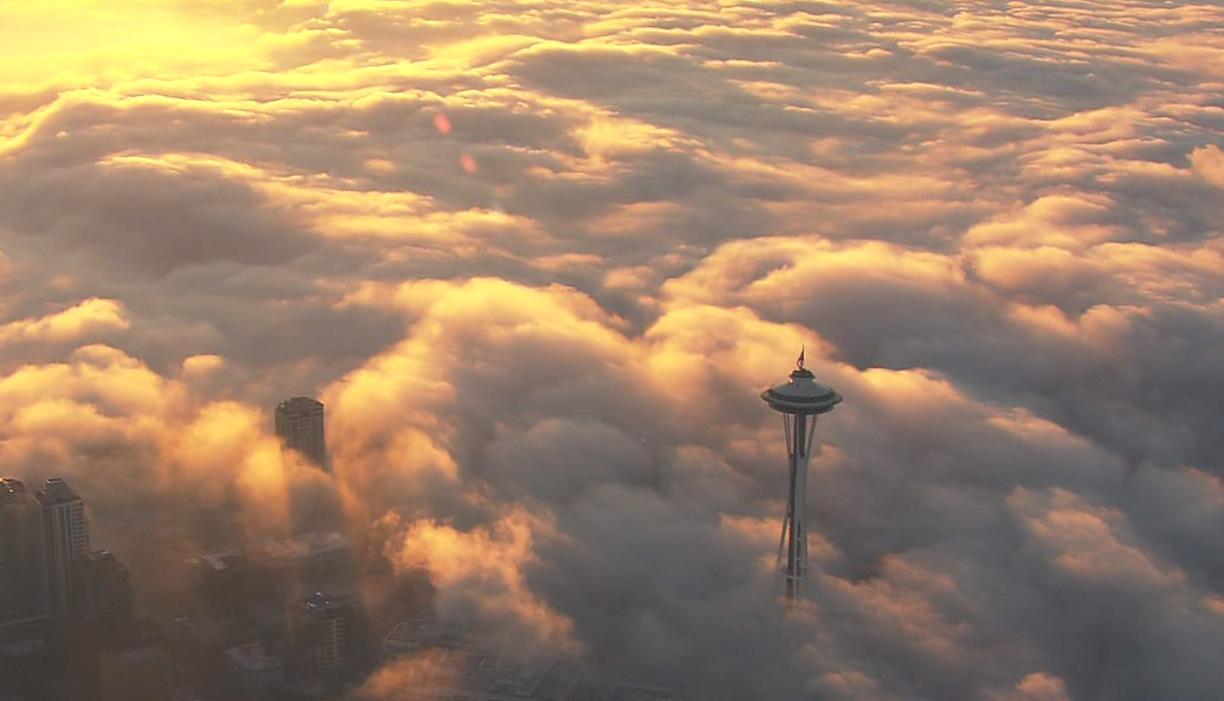 Absolutely amazing, and here's my shot from the KOMO Plaza of the Space Needle peeking through the clouds.
We're in the midst of a cool-to-mild period mixed in with the fog, and that'll begin to change as we get closer to Super Bowl Sunday. Saturday will be similar to Friday, albeit with some slightly colder temperatures in the morning (mid-upper 30s). Fog will prevail in places nearer the water in the morning and burn off to expose a lovely partly sunny sky.
The rain returns on Sunday; unlikely to impact Seattle's Superbowl [victory] festivities. A stronger storm will rush in on Monday morning with some heavier rain, and breezy conditions. It'll be a quick system and the heavy rain isn't expected to last longer than a few hours. Winds will bluster around the 15-25mph mark, and there is a slight possibility of some thunder or small hail, which will be looked into.
Tuesday will see some more of that rain in the morning, but the moisture should be filtered out by the afternoon.
Wednesday will brighten up the mid-week with some clearer skies (possibly more fog), and some more comfortable temperatures in the low 50s. However, thereafter we'll enter a bit of a stormy phase.
Thursday is the beginning of this stormy phase. Heavier rainfall will fill in Thursday afternoon as a frontal system buffets the coast. Just as Thursday's rain dwindles in the evening, a strong atmospheric river will be charging up another strong system to nail the West Coast late Thursday night into Friday morning. This one could drop heavy rain from northern California, to western Washington. Blustery to strong winds would also be possible as this system arrives. This system is still a week away, so forecasts will likely change as it comes closer.
Have a good weekend folks!
GO HAWKS!

For the latest local weather, be sure to follow the Puget Sound Weather Geek:
Thanks for visiting! If you have any comments, suggestions, or feedback please email me at [email protected]