From our friends at WABI Burien:
In keeping with our summertime tradition, we will enjoy the 9th Annual Burien Public Art Walk-n-Talk this Sunday, Aug. 1, 2021, as we begin the ELEVENTH YEAR (!) of our monthly Walk-n-Talks.
This month's walk is a great way to discover the Public Art that Burien has scattered throughout town. We have sculptures, murals, decorated signal boxes, architectural and park details that are the result of artists' collaborations with the City and other organizations.
WHEN: Sunday, Aug. 1, 2021; Meet-up at 2 p.m., walking starts at 2:15 p.m.
WHO: Walkers of every level and ability (dogs and cats are welcome, too.)
WHERE: Meet out in front of the Wells Fargo Bank, at the corner of Ambaum and SW 152nd. St.
Walking Route: We will start at "Gordon, Dixie and Clem", and walk through town from there, including through the "Art Alley" between SW 152nd and 153rd Streets, from 6th Ave. to 4th Ave. We'll also add the art spaces at The Maverick Apartmentsand Merrill Gardens, which are curated in partnership with the City of Burien. (You can read more about the art spaces on the B-Town Blog HERE.)
Distance: About 1.75 miles, round trip, mostly flat with sidewalks.
NOTE: We will be walking outside for the most part. Please follow the current CDC guidelines regarding use of facial coverings and social distancing for vaccinated and unvaccinated persons.
Burien Public Art Web Site & Survey
The City of Burien has completed a web site where you can view photos, maps, descriptions and the artist's name for each piece of public art. Click HERE to explore the Burien Public Art web site and take the survey: https://magazine.burienwa.gov/burien-public-art/
Former Public Art Map
In 2013, the City of Burien's Department of Parks, Recreation and Cultural Services, along with the Burien Arts Commission, created a walking map and signage for 23 public art pieces that were around town at the time. Though new artwork has since been added to our city, you may still DOWNLOAD A COPY OF THE PRIOR PUBLIC ART WALKING MAP HERE to carry along with you as we discover 20 of the art pieces.
"Only through art can we emerge from ourselves and know what another person sees."
– Marcel Proust
French novelist, Critic, and Essayist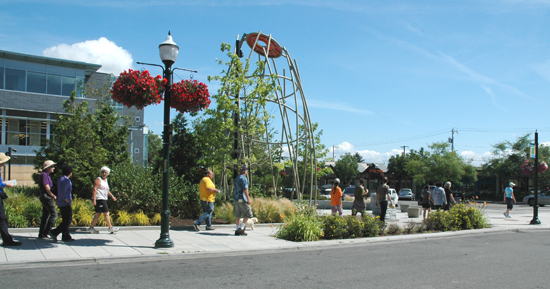 CLICK HERE for further information about public art in Burien and a link to the survey.
More info on this walk is here.
For further information, please contact Maureen Hoffmann, WABI Burien President, [email protected]