About
We love Burien.
And we're not ashamed to say it.
That's because we live here.
We work here.
We shop here.
And we believe in this city of 47,605 people (surpassing Olympia as the #21st largest city in WA), where our mission statement is:
To report news from a "location-based" perspective, that is, if it happens in/near Burien, we'll cover it.
To cover Local News, Events, Arts and more efficiently than any other website, on a fair and ethical basis.
To have as our only agenda the idea of Community Betterment through sharing information, events, entertainment, art and other location-based content.

To inform, engage, entertain and educate our Readers.
To allow a Forum for our Readers to Comment and post their thoughts on the stories we cover.
To be involved in our community, via ongoing memberships in Discover Burien, the Southwest King County Chamber of Commerce, and other organizations that involve local businesses.
To remain pro-Burien, pro-business, and to help our fellow businesspeople as best we can.
To actually do more than "just report" local News by holding our own Fundraisers and helping our neighbors.
UPDATE 3/3/13: Founder/Publisher/Editor Scott Schaefer was named Discover Burien's 2013 "Business Leader of the Year" at the organizations annual awards dinner.

UPDATE 5/20/12: For the second consecutive year, The B-Town Blog was awarded "Best Hyperlocal Website" for the Northwest by the Society of Professional Journalists!

UPDATE 6/6/11: B-Town Blog Founder/Publisher/Editor Scott Schaefer was interviewed by 'Street Fight' magazine on 'Hyperlocal' journalism and the blog – read it here.

UPDATE 5/21/11: The B-Town (Burien) Blog was award the "Best Hyperlocal Website" by the Society of Professional Journalists for their 2010 regional competition, which includes Washington, Oregon, Alaska, Idaho and Montana!
The B-Town (Burien) Blog is the most-read, daily-updated, totally independent homegrown online news source for all things Burien-related, including:
News
Events
Businesses
Real Estate
History
People
Artists
Music
Mysteries
Photos
Videos
Humor
Fundraisers

and much more
The folks behind Burien's original and first local blog include:
Scott Schaefer, Founder/Publisher/Editor: With three

National Emmy Awards

for Writing on "Bill Nye the Science Guy" and over 25 years' experience in TV/video, multimedia, marketing/advertising, technology and the internet, Scott started The B-Town Blog as a hobby and has since turned it into a full-time business. His other credits include as a Director on "Penn & Teller:Bullsh*t!" (Showtime), "The Arsenio Hall Show" (Paramount), "Sightings" (Paramount), "Totally Hidden Video" (Fox), "America's Funniest People" (ABC),  Fox On-Air Promotions and KING-TV's "Almost Live!" where he got his start in 1985. Connect with Scott on LinkedIn here.
Michael Brunk, Photographer/Technical Guru. With a love of photography that spans more than 20 years, Michael has fond memories of film but wouldn't give up his digital SLR for anything. His checkered past includes stints as a monthly columnist for a nationally published magazine on telecommunications and technology and several years reviewing movies. He's also been known to dabble in community theater. His main qualifications are a large camera and free time. He also builds and maintains the code that runs our sites.
Jack Mayne, Senior Reporter. Jack Mayne has done about all there is to do in print journalism. He has been city editor of the Seattle P.I. back in its glory days, edited the Journal American in Bellevue and Valley Daily News in Kent in the 1990s. Before that he was a freelance international journalist and reported from South Africa, China, visited over 80 countries and even covered a colonial war in the 20th century between the United Kingdom and Argentina over the desolate Falkland Islands in the South Atlantic. He got his start at the Vancouver Province, thence to The Associated Press, becoming chief of the New England bureau, but a desire of AP to send him to Buffalo, N.Y., drove him back to Seattle. With writing for print becoming quaint and dated, he is now setting his sights on Web journalism and has written several stories for the B-Town Blog and plans many more.
Ralph Nichols, Senior Reporter. Ralph specializes in public policy and legal issues, medical matters, and business profiles. For several years, he was an editor, reporter, and columnist for the Highline Times. Previously he worked in the Seattle area, Alaska and Idaho as a reporter for daily newspapers, United Press International, and trade publications; as a state capitol bureau chief and columnist; and a public relations writer and project manager.

Mark Neuman

, Writer/Marketing: former real-world Journalist, TV Host, Producer and Marketer, Mark is an old friend of Scott's going back to when they worked on their high school newspaper together (West Seattle High's "Chinook"). Mark has interviewed two US Presidents, cops, cooks and cartoonists, authors and artists, senators, singers, scholars and senior citizens, along with the

first Mayor of Burien

and a local man running for State Superior Court.
Bryan Charles, Intern, Big Picture High School. Bryan, 16, is an Artist/Animator who has created an original ongoing cartoon series called '3 Frog Bros.'
Shawn Underwood, Humor Columnist: Twenty-five years of living in Burien gives this Humorist much fodder for her writings. All of her stories are true, or at least have a grain of truth with no added embellishments.Or something like that.
FORMER TEAM MEMBERS:
Joy Steele, Sales Manager/Columnist. Joy served as both Sales Manager and a Humor Columnist before her own business got too busy. She wrote "Missed Congeniality," an observational column in the spirit of Erma Bombeck.
Janet Grella, Sales Director/Diva from 2009-2011. She is now happily retired and taking Italian lessons so she can travel there to enjoy life with her husband.
Bart Bryan, Sales Dude/Video Host/Fundraiser. Another old friend of Scott's from high school, Bart is a happy, funny, outgoing man who loves his community. He has served as both a Sales Rep as well as On-Camera Video Host (see his hilarious Polar Bear Plunge videos here), and you'll also see him at any number of fundraising events we support, including as Host.
Philip Benais, Intern, Big Picture High School. Philip, 17, writes movie reviews for the Blog. His writing style is years beyond his age, and he's got a lot of passion for a teenager.
Kristen Kerns, Sales. Kristen is a very active, community-minded local resident who does a ton of volunteer work for fundraisers like Cove to Clover, the Burien Brat Trot and many others.
Lisa Bosques, Sales. A former Realtor with Prudential Northwest Realty, Lisa is the newest member of our team!
Josh Hart, (former) Intern: Hailing from Highline School District's innovative Big Picture High School, 15-year old Josh provides our youth-oriented voice on everything from local football game blowouts to opinion pieces on VP debates.

Gina Bourdage

, Reporter/Designer: graduate of Washington State University with a B.A. in Communications, Gina is a native who currently resides on the cusp of the proposed annexation area. She writes, reports, reviews and even creates our cool Ads.
Aside from striving to be the main (and most timely being that we update several times per day) News Source for the Burien area, the B-Town Blog does something few other local blogs do; we actually strive to serve and help our community!
Over the last two years, we've helped raise more than $13,000 for needy area residents ranging from two local food banks to victims of a fatal apartment fire and more.
We're also active members of both Discover Burien and the Southwest King County Chamber of Commerce.
Here's a informational video worth viewing: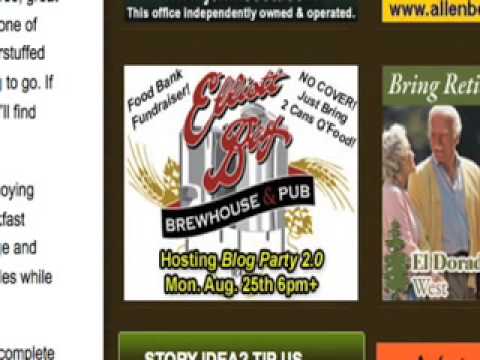 This is part of a network of blogs produced by Schaefer's company LOL Dudez, LLC, and includes:
Remember, a blog is only as good as its contributors and participants, so please email us with any story ideas, event listings, business directory listings or other B-Town-related stuff.
LOL Dudez also produces corporate videos, comedic videos and viral marketing on the internet, including:
Conceptualize with our Clients
Write the script (done by a 3-time National Emmy winning Writer)
Revise the script
Polish/Finalize the script
All production from pre to shooting and more
Editing, including audio sweetening
Encoding for the internet and Posting/Hosting
Viral online marketing
Here are two "Viral Videos" we wrote/produced/directed/shot/edited and marketed for Dan The Sausageman:
Want to experience the power of video on the internet that doesn't just stop when the editing is finished?
Email Scott directly, or give him a call our Burien studio/office: (206) 248-2565
Thanks!