WABI Burien Bikers will follow salmon on Green River Trail on Wednesday, Sept. 6
September 6 @ 10:00 am

-

12:00 pm
From our friends at WABI Burien: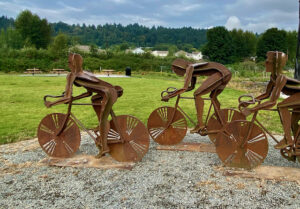 WABI Burien Weekday Bikers will cycle the Green River Trail on Wednesday, Sept. 6, 2023, and all bicyclists are invited.
We plan to meet a little before 10 a.m. at the Three Friends Fishing Hole in Kent. We will cycle south, passing through the newly completed Van Doren's Landing Park, and crossing several pedestrian/cyclist bridges along the way. These bridges will allow us to view the thousands of salmon currently migrating up the river to spawn. The total distance is about 11 miles on paved trails and rural roadway. Expected duration: 80-90 minutes.
All participants will need to bring their own bike, a bike safety helmet, and are expected to follow safety guidelines as outlined in the Ride Smart Biking tips.  We also advise all bikers to bring: water for hydration, sunglasses, sunscreen, and a small snack (granola bar, dried fruit, nuts, etc).
Date: Wednesday, Sept. 6, 2023 
Time: Meet a little before 10 a.m. so we can begin biking at 10:00.
Place: Three Friends Fishing Hole parking area, 19970 Russell Road, Kent WA 98032
Who: Bikers of all ability levels
Distance: About 11 miles, round trip. Trail is paved.
Questions?
For questions, comments and suggestions, please contact: