An Artist Reception and Celebration of a NEW Gallery Wall will be held at the Highline Heritage Museum this Friday, Jan. 3, 2020, from 6 – 7:30 p.m.
Meet Artist and Printmaker Sheila Coppola.
Museum is open to the public for FREE until 8:30 p.m.
Music and Art Walk begins at 7 p.m.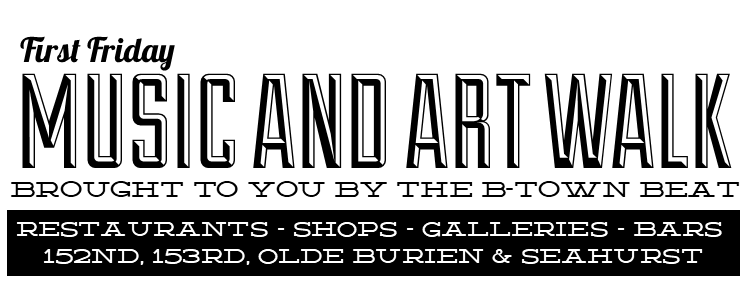 All are invited to celebrate an exciting New Year for Burien Arts with the NEW location of their Solo Artist Exhibits at the Highline Heritage Museum:
WHEN: Friday evening, Jan. 3, 2020:
6 p.m.: Artist Reception
7 p.m.: Art Walk begins
WHERE: Highline Heritage Museum, 819 SW 152nd Street,  Burien, WA 98166 (map below).
The free exhibit at the Highline Heritage Museum is open on the first Friday of each month and is presented in concert with the Burien Music and Art Walk, organized by Amber Raven of the B-Town Beat.
The Art Walk now runs all year-round.  Come and celebrate our January solo artist at the NEW location at 6 p.m., then start your art walk at 7 p.m. at these locations:
Clone Press
Elliot Bay
Burien Press
Pickled and Preserved
The Oilerie
Scarlet Ibis
A Place for Pets
Page 2 Books
Black Zia
Grand Central Bakery
Discover Burien
Sitka Living
The Highline Heritage Museum
Junkie Janes
Pigfish Café
Three Tree Books
All works on the Burien Arts wall display at the Highline Heritage Museum are for sale. Proceeds benefit Burien Arts and the artist. Please email [email protected] for information on purchasing, or purchase via credit card at the artist's reception on the First Friday of the month.

By popular demand, Sheila's art – with an additional presentation of her printing techniques – have moved to the Highline Heritage museum for the month of January. Her special presentation will be held on Saturday, Jan. 18.
Sheila was trained as a painter and printmaker at the University of Washington, receiving a BFA in painting in 1982. After graduation, she received a scholarship to the Skowhegan School of Painting and Sculpture, Skowhegan, ME.In 1986 she co-founded Ink on Paper, a custom print shop dedicated to the creation of original hand-drawn  using power press technology. In 1996 she established Sidereal Fine Art Press, Tukwila, WA, where she continues to work today.
Her focus is a combination of printing, painting and collage. Current work reflects a fascination with the poetry of George Oppen, a member of the 1930's Objectivist movement. William Carlos Williams defined the literary goals of this movement in part as "an objectification of significant particulars," which struck a chord with Coppola. She is in search of her own "little forms" in visual art which would function like the "little words" of Oppen's  poems. She classifies her current work as "Poetic Cartoons."
Sheila's works have been included in local, national and international group shows as well as private collections.
She lives and works in Tukwila, and volunteers as a Tukwila Arts Commissioner.
For more info, visit https://highlinehistory.org and http://burienarts.org.