From our friends at WABI Burien:
WABI Burien Weekday Bikers will cycle along the eastern portion of the Cedar River Trail on Wednesday, Oct. 4, 2023.
We plan to meet a little before 10 a.m. at the Cedar River Trail parking area immediately across the street from Foley's Produce stand (21419 Renton-Maple Valley Rd in Maple Valley; map below).
Cycling east along the cascading Cedar River, we will pass through virgin forests showing their early autumn colors in the surrounding canopy.
We cycle over 8 bridges including four paved historic railroad trestle bridges.
At trail's end, we will visit the Landsburg Fish Ladder to witness migrating salmon swimming upstream.
The total distance is 11.3 miles on mixed hard-packed gravel and paved trail.
Expected duration: 90-100 minutes.
All participants will need to bring their own bike, a bike safety helmet, and are expected to follow safety guidelines as outlined in the Ride Smart Biking tips. We also advise all bikers to bring: water for hydration, sunglasses, sunscreen, and a small snack (granola bar, dried fruit, nuts, etc).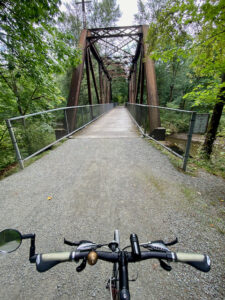 Date: Wednesday, Oct. 4, 2023
Time: Meet a little before 10 a.m. so we can begin biking at 10:00.
Place: Cedar River Trail parking area, 21419 Renton-Maple Valley Road, Maple Valley,WA 98038 (across from Foley's Produce)
Who: Bikers of all ability levels
Distance: About 11 miles, round trip. Trail is mixed paved and hard-packed gravel.
Questions? For questions, comments and suggestions, please contact: