At its Wednesday night meeting, the Highline School Board School Board voted to place a 'Tech Levy' on the Nov. 3, 2020 ballot.
"All students need access to technology to learn and be prepared for today's careers," the district said in a statement. "On July 8, school board members voted to place a two-year $32.5-million technology levy on the November 3 ballot."
The district says that the levy will not increase taxes beyond the current rate, thanks to expiring school taxes. Taxpayers would see a reduction in property taxes.
Here's more from Highline Public Schools:
The emergency transition to distance learning due to the COVID-19 pandemic demonstrated an urgent need for technology funding—for devices, connection, security, support and training.
If passed, the tech levy will provide the tools and support students need to prepare for today's careers. It also addresses the urgent need to support students and teachers with distance learning during the pandemic.
"The technology levy increases digital equity and literacy for Highline students. It's a short-term investment in technology that will help students achieve success in school and during disruptions that require distance learning–and long after graduation," says School Board President Angelica Alvarez.
WHAT DOES THE TECHNOLOGY LEVY FUND?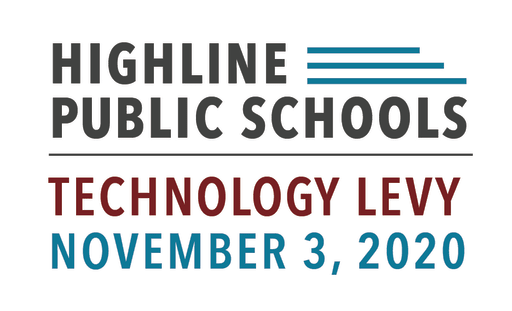 We distributed more than 13,000 devices and 1,000 hotspots to students this spring. Many of these devices are aging, as is classroom technology. Many families do not have internet access at home and are dependent on hotspots for students to do online learning.
We face a period when state education funding is likely to shrink due to the economic downturn. A short-term levy will fund the following technology needs:
Replace aging computers for teachers and students.
Provide training and coaching to help teachers personalize student learning using digital tools.
Distribute technology to ensure all students have internet access for learning at home.
Update cybersecurity to protect confidential student and district data.
Install interactive screens in classrooms to allow teachers to deliver instruction at school and during distance learning.
Staff are planning for various scenarios this fall, which include staying in distance learning and creating a hybrid of in-person and distance learning. We must also be prepared to return to distance learning districtwide if there is a spike in the spread of the virus.
FIND OUT MORE ABOUT COST & IMPACT
Visit our web section to find out more about the Technology Levy that Highline voters will consider funding in the November 3 election.
More info here: NOVEMBER 3 TECHNOLOGY LEVY
Last night, the school board voted to place a 2-year, $32.5M technology levy on the Nov. ballot. If approved, the levy will provide the tools students need to prepare for today's careers & address the urgent need to support distance learning during COVID. https://t.co/rKF9RsNHky pic.twitter.com/UMc3RUGIU3

— Highline Schools (@HighlineSchools) July 9, 2020